Having Trouble Using Stationery - Click Here for tips
NEW MS Exchange Mail Stationery Information
There are now TWO methods of downloading my designs. One is ZIP or DOWNLOAD style, which is covered in the instructions directly below. The other is EXE style which will automatically extract the files into the proper folder on your computer. Click Here for EXE style instructions.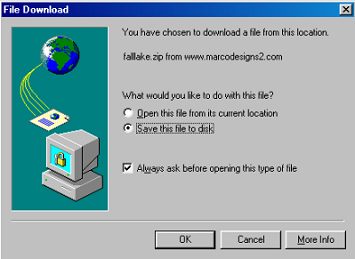 The next screen will pop up, asking where you want to SAVE AS. You may have a special folder where you keep your downloads, if not, then you'll see the MY DOCUMENTS folder, or your Windows Temp folder. Make note of the folder your stationery is beings Saved In.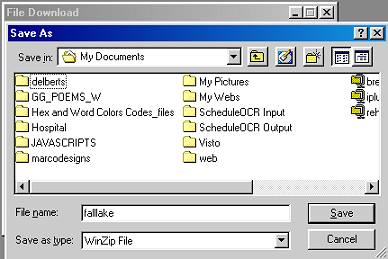 Your new Stationery Design is now downloaded to your computer.
Now you are ready to un-zip the files to the proper folder. Go to the folder where you saved the stationery file, most likely your My Documents folder. Find the file by looking for the name, then simply DOUBLE CLICK it. The screen below will come up. IF YOU DO NOT HAVE WinZip installed, then you must get it first. You can find it at www.download.com, it's free! And it's called WinZip.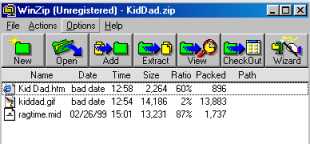 Click on the EXTRACT button. The window below will open.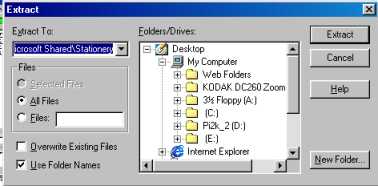 You want to extract into the C:/Program Files/Common Files/Microsoft Shared/Stationery folder. This is the default folder that Outlook Express looks in to find stationery. The next picture is of step 5. You double click on the C drive letter and you'll see this screen.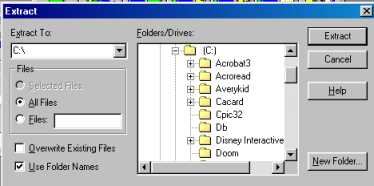 6. Next you double click on the PROGRAM FILES folder...as shown below.
7. Now double click on the COMMON FILES folder, as shown below.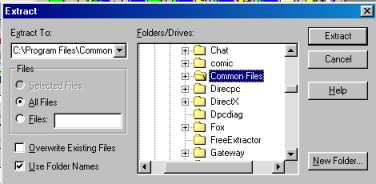 8. Next double click on the MICROSOFT SHARED folder, as shown below.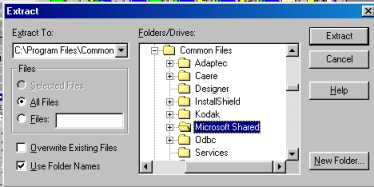 9. Double click on the STATIONERY folder, as shown below.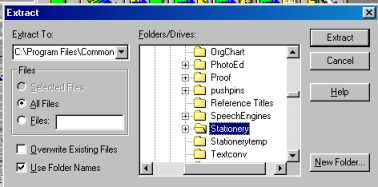 10. Finally click on the EXTRACT button. Your stationery will now un-zip into the C:/Program Files/ Common Files/Microsoft Shared/Stationery folder. Click HERE for instructions on using the new design in Outlook Express.
---
Click on the word EXE, when available, for the design you want to use. This window will open: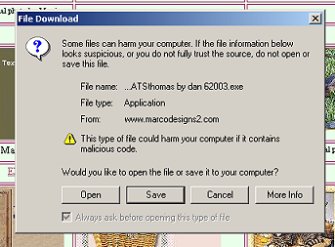 Click on OPEN. Click OK on the WinZip Self-Extractor Information Window.
This window will now open: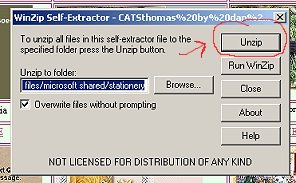 Click on the UNZIP button. You can see that the files in the EXE are going into your C:/program files/ common files/microsoft shared/ stationery folder.
Next a confirmation window will appear: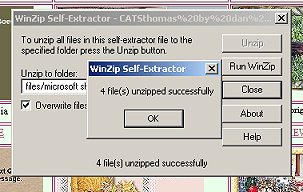 Click CLOSE. You are now ready to use your new design as follows.
---
USING STATIONERY - Now go to your Outlook Express e-mail program and select the new stationery by clicking on the little arrow to the right of the New Mail button in Outlook Express 5.0. It looks like the picture show below: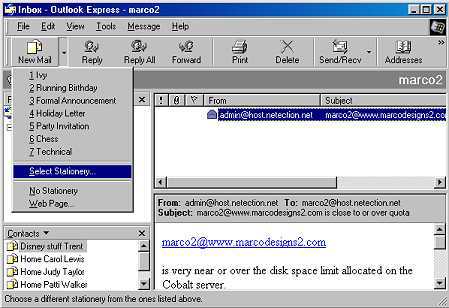 From the drop down list, choose Select Stationery. Another new window will open showing all the stationery you have saved.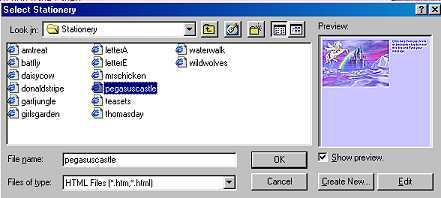 From the stationery files find the name of the one you want, click on it to see the preview, then click Open. A New Message window will open up with your new stationery.
DON'T FORGET that some styles do not show the graphic when you are typing in your message. Some styles even put the main graphic all over the page. Rest assured when you send your message, all the pieces will fall into place. If you'd like to preview exactly what your message will look like, while in the New Message window, click VIEW and select SOURCE EDIT.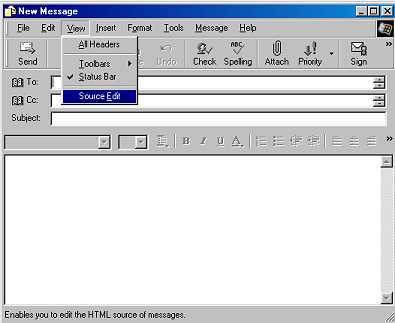 Now you will notice a tab at the bottom of the window called "Preview". Click on that to see the exact thing your recipient will see.
Using my stationery in Outlook 98:
Click on Actions/New Mail Message Using/More stationery click on the name of the stationery you just saved and click ok that's all there is to it.
Using my stationery in Outlook/Office 2000:
Open Outlook 2000 and click on Tools/Options/Mail Format/Stationery/New/ click on name of the stationery you just saved to the stationery folder, click OK to everything then click Apply. The stationery should now be ready for use.
Using my stationery in Outlook/Office XP:
Open Outlook and click on ACTIONS, choose NEW MAIL USING, then click on More Stationery. Find the design you want from the window that opens, click OK. The stationery will now be ready for use.
One final note, my designs are all created for Outlook Express 5.0 and Outlook 2000. I've tested most of them in Outlook '97 and Outlook Express 4.0 and have so far found them to work. If you encounter any problems, please let me know so that I can research a fix for it.
ADDING MUSIC in Outlook Express 5.0 to Stationery that does not come with music: Start your New Message, Click on FORMAT, choose BACKGROUND, then select SOUND. In the window that opens, choose BROWSE. At the bottom of the new window, use the drop down list to select .mid or .midi files. Then locate the folder on your computer where you normally save sound files. Choose your music and click open. Finally click OK. Now you have the music of your choice to go along with your Stationery Design.

If you have any problems, just E-mail me and I'll be glad to help. My "real job" is computer instruction/ technical support, so I'm always glad to help!!